Recognized Focused Practice in Endovascular Neurosurgery
By Martin G. Radvany, MD; Lee Pride, MD; and Colin P. Derdeyn, MD
2022;15(5):6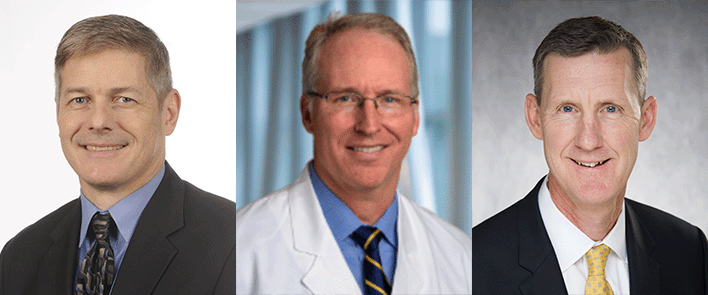 In 2017, the American Board of Medical Specialties (ABMS) approved the establishment of Recognized Focused Practice (RFP) designations, which distinguish areas of practice that emerge as medicine changes due to advances in knowledge or evolve as physicians progress throughout their careers. This designation recognizes an evolution of practice that occurs following initial certification. Approved areas of Focused Practice are offered by ABMS Member Boards to diplomates who are already board certified in a specialty or subspecialty and who have met specific criteria, including the length of time they have focused in the particular area, as well as the number of patients they have treated or procedures they have performed.
The CNS Endovascular Surgery (CNS-ES) RFP has been approved by the ABMS and recognizes physicians who have successfully completed neuroendovascular surgery (NES) or interventional neuroradiology fellowship training in a program certified by the ACGME, the Committee on Advanced Subspecialty Training (CAST), or the United Council for Neurologic Subspecialties (UCNS). All these programs require a dedicated year of NES training, prerequisite catheter-based procedural training, and clinical training (six months in clinical neurology or neurosurgery are required for radiologists). This is generally included in a preliminary year prior to the accredited NES year. The RFP is also available to individuals without accredited fellowship training who meet neuroendovascular clinical practice criteria. This RFP is co-sponsored by the American Board of Radiology (ABR), the American Board of Psychiatry and Neurology (ABPN), and the American Board of Neurological Surgery (ABNS) and administered by ABNS.
Credentialing of RFP candidates is performed by the Credentialing Endovascular Surgery Advisory Committee (CESAC), which comprises equal representation from the sponsoring boards. CESAC is responsible for credentialing neurosurgeons, neurologists, and radiologists who have completed training in a CAST, ACGME, or UCNS Fellowship or through a clinical practice pathway. Candidates who pass an RFP written exam and have a CESAC-approved application will be granted the RFP credential.
There are three pathways for radiologists to enter NES fellowship training:
Completion of an ACGME-accredited diagnostic radiology residency followed by completion of an ACGME diagnostic neuroradiology fellowship. This has been the traditional pathway. It generally requires a preliminary year after the neuroradiology fellowship to cover prerequisite training before the accredited neuroendovascular year.
Completion of an ACGME-accredited interventional radiology residency including the neurointerventional radiology pathway during the IR/DR residency. This is a new pathway that incorporates the preliminary catheter and clinical training into the DR/IR residency.
Completion of an ACGME residency and ABR certification in IR/DR followed by the independent prerequisite pathway as described in ACGME and CAST requirements. This is new as well and allows graduates of IR/DR programs to enter NES training programs after fulfilling prerequisite catheter and clinical training.
There is also a clinical practice pathway available to NES physicians regardless of whether they trained in an accredited fellowship. Physicians who spend at least 50% of their clinical practice participating in the assessment, clinical management, and procedural care of patients with cerebrovascular disease are eligible to apply via this path. They will need to sit for the RFP exam.
The credentialing process for the CNS-ES RFP includes CESAC approval of the submitted application, a case log, and passage of an RFP endovascular exam administered by ABNS. The RFP is a 10-year, time-limited recognition, during which Continuing Certification requirements apply. Further information on the CNS-ES RFP and application can be found at https://abns.org/rfp-cnsendo/.
Martin G. Radvany is a dual-trained interventional and neurointerventional radiologist practicing in Florida. As an interventional radiologist in the U.S. Army, he served as chief of Interventional Radiology. As an academic neurointerventional radiologist, he has been a fellowship program director and division chief as well as chair of the Neurointerventional Clinical Specialty Council for the Society of Interventional Radiology (SIR). He continues to be active in graduate and postgraduate medical education. 
Lee Pride is an interventional neuroradiologist and Professor of Radiology and Neurosurgery at the University of Texas Southwestern Medical Center in Dallas where he is the director of the Neuroendovascular fellowship. He has served on the executive board of the Society of NeuroInterventional Surgery and currently serves on the CESAC and NESAC committees overseeing individual practitioner certification and training program accreditation related to the sub-specialty of CNS Endovascular Surgery.
Colin Derdeyn is the Krabbenhoft Professor and Chair of the Department of Radiology at the University of Iowa Hospitals and Clinics.   He is an interventional neuroradiologist and past president of the Society of NeuroInterventional Surgery (SNIS) and past Chair of the Stroke Council of the American Heart Association.  He has been active in efforts to develop board certification and training program accreditation for the specialty for over a decade.
---
Help spread the word