A new class of American Board of Medical Specialties (ABMS) Visiting Scholars has been named, including one diagnostic radiology assistant professor and two radiation oncology residents who are sponsored by the ABR.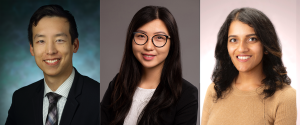 Francis Deng, MD (diagnostic radiology), Leslie Chang, MD (radiation oncology), and Ria Mulherkar, MD (radiation oncology), were selected from a group of applicants. This is the second year the ABR has helped fund the program.
Dr. Deng is an assistant professor of radiology and radiological science at Johns Hopkins School of Medicine, Dr. Chang is a resident at Johns Hopkins, and Dr. Mulherkar is a resident at the University of Pittsburgh Medical Center Hillman Cancer Center.
A one-year, part-time program, ABMS Visiting Scholars facilitates research projects that address pressing health care issues and research priorities for the Member Board community. The ABR is one of 24 ABMS Member Boards.
Last year's recipient was Sara Hunter, MD, a diagnostic radiologist at the Cleveland Clinic. Her Visiting Scholars project, titled, "It's Not Enough to be Up-to-Date, You Have to be Up-to-Tomorrow: How Longitudinal Assessment Encourages Radiologists to Stay Current," examines the impact of Continuing Certification programs, like Online Longitudinal Assessment.
---
Help spread the word