He's Back on His Bike After Frightening Incident
By Rodney Campbell, ABR Communications Manager
2023;16(2):9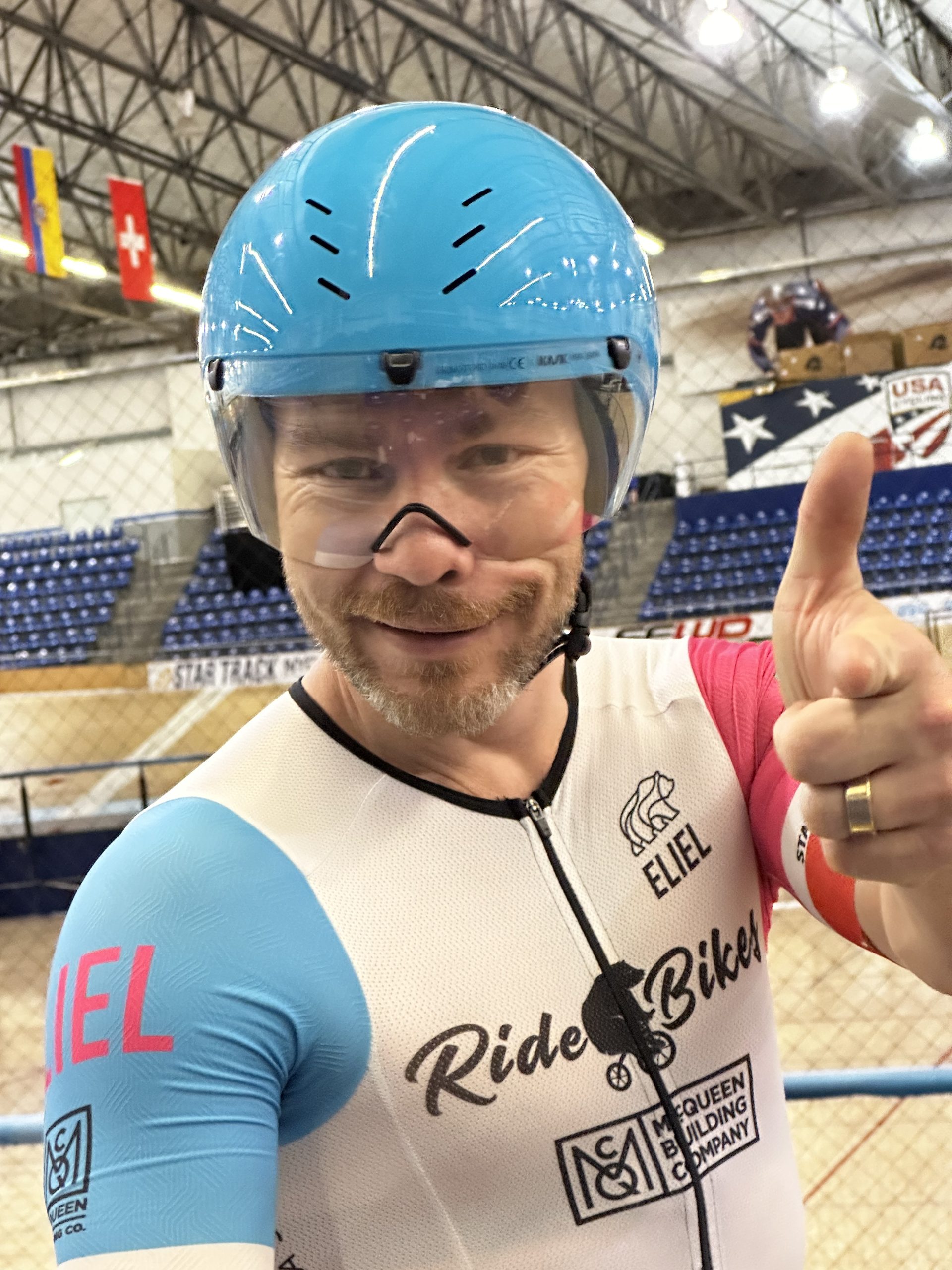 It was a moment Kyle Cooper, MD, doesn't remember but one he'll never forget.
An avid cyclist since his youth and a competitive one for the past five years, Dr. Cooper almost lost his life riding a bike last August. Cruising through the Redlands hills in Southern California, he was feeling fine.
"I just had a great day at work," said Dr. Cooper, associate director of interventional radiology and IR/DR residency program director at Loma Linda University. "I was doing two hours of easy endurance riding."
He turned onto a road that he rides at least once a week. A few minutes later, he said, he woke up "face down in a puddle of my own blood."
There were no witnesses and the police report was put together later based on second-hand accounts, so Dr. Cooper can only speculate about what happened. He suspects that he was involved in a hit-and-run, which propelled him into the back of a parked landscaping trailer. The impact was so severe that several of Dr. Cooper's teeth were found in the bed of the trailer two weeks later when a friend tracked it down.
"How does a pro cyclist going 15 mph on a flat stretch of road in broad daylight just run into a trailer?" said Dr. Cooper, who competes on a professional cycling team. "It just doesn't happen."
Luckily, a nurse at Loma Linda Children's Hospital happened to be driving by when he was down and stopped to assist. When she saw the state of Dr. Cooper's face, she knew he needed help right away. He had lost five teeth and suffered massive injuries to his face, jaw, and mouth.
'Moving in Ways It Shouldn't Be Moving'
The nurse was concerned about his neck, but Dr. Cooper began aspirating blood when rolled onto his back. When he rolled to his side, he realized his jaw was "moving in ways it shouldn't be moving."
"That's when I realized that the injuries were worse than I thought," he said.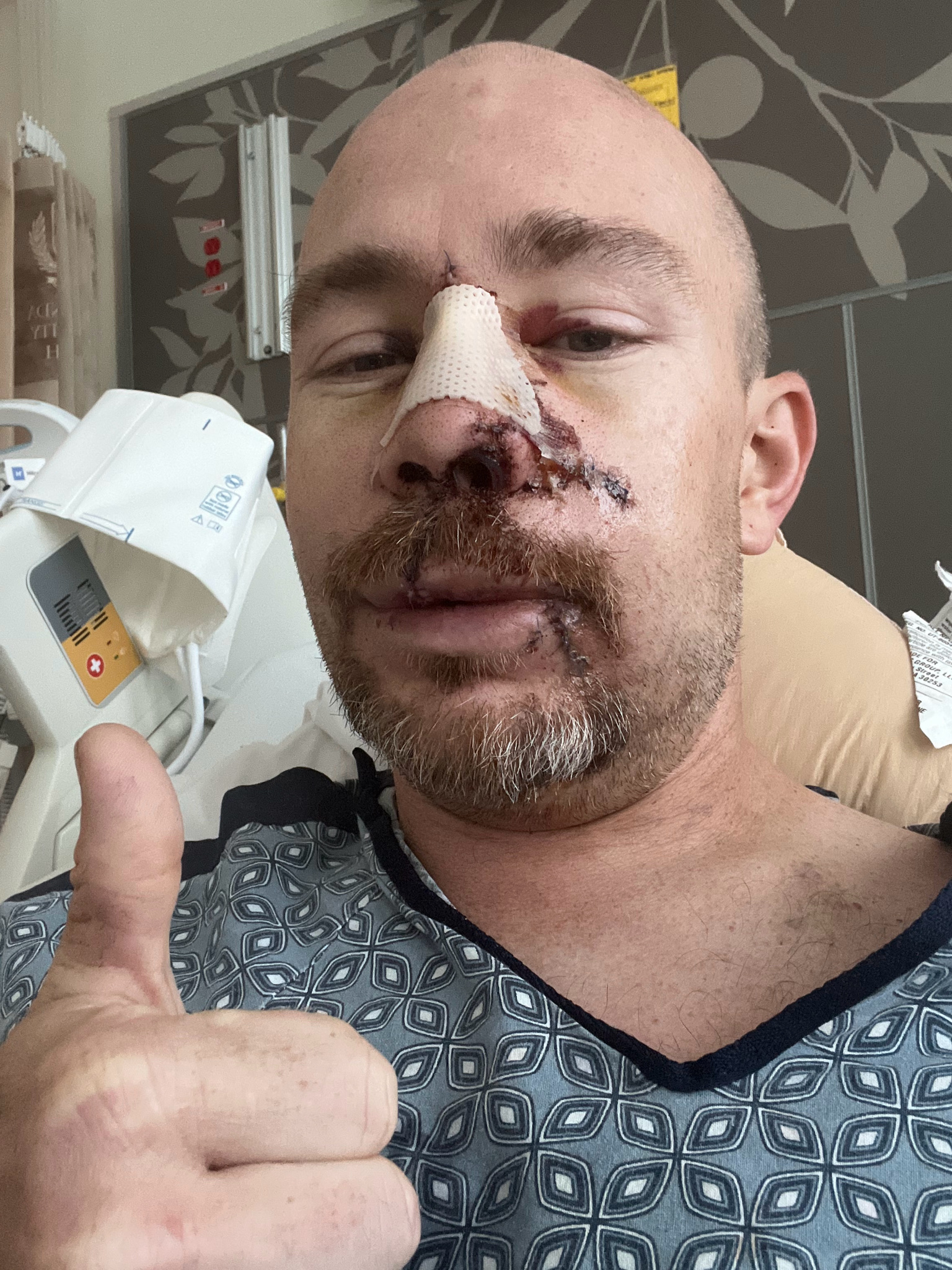 They were so bad that when he tried to open his phone to call his wife, the device didn't recognize his face. The nurse called 911 and Dr. Cooper managed to open his phone and point out his wife's contact information.
When he reached the hospital, he had to use the text-to-speech feature of Apple Translate to communicate with his wife and physicians. His injuries and the pain caused by the incident made it hard for him to communicate without help. Still, he was aware of everything going on around him.
"I got a little bit of fentanyl for pain relief, but I was incredibly lucid," Dr. Cooper said.
His initial surgery started at 10 p.m. that day and lasted for nine hours. The laundry list was long: his nasal bones were cracked into pieces, his nasal septum was broken in multiple places, the front part of his septum was pulled off the back, his nasal cartilage was badly lacerated, and he had a gash going from his upper lip to lower lip and another involving his left nostril.
That doesn't include numerous dental issues that went far beyond lost teeth. Still to come is a surgery that will involve removing and replacing plates in his jaw since his teeth are turned inward. To correct the issue, oral surgeons will need to re-break his jaw during the procedure.
"After that, I will need bone grafts on the top and bottom of my mouth," Dr. Cooper said.
He knows his injuries could have been even worse, possibly fatal.
"That amount of trauma to the face could have easily snapped my neck or caused an intracranial hemorrhage," he said.
Seeing Dr. Cooper now, there are few signs of the trauma he experienced back in August. When he looked at himself in the mirror after the wreck, he was astonished by the damage. Several surgeries later, he's happy with where he stands.
"The nose reconstruction has been the worst part due to scarring inside the nostril causing difficulty breathing," he said. "My nose and lips and everything look pretty darn good. Eventually, I'll look pretty close to normal again."
Getting back to normal has been a remarkably quick process. Dr. Cooper even fulfilled his commitment to serve as an IR/DR oral examiner in late October. He wasn't going to pass on his first opportunity.
"I never thought about canceling. It was something I've always wanted to do," he said. "There were some challenges with it, but if you're doing your job as an examiner correctly, the candidate should be speaking a lot more than you."
A Zwift Return
Serving as a volunteer during oral exams was one of many steps that Dr. Cooper has made. Just 10 days after the incident, he was riding an indoor bike simulator called Zwift. A couple weeks after that, he was back on the road.
"I didn't know what it was going to be like," he said. "I always ride my bike to work and one of our cars was in the shop and my wife needed the other. I told her I would take my bike. It was liberating."
Dr. Cooper's cycling life has gotten back into a routine, including competing with his squad, Team Six Project.
Riding with a team involves close proximity to other cyclists and, often, vehicles. Dr. Cooper, who also races indoors on a velodrome, says he's not intimidated by cars, even after the incident that knocked his life off course.
"It's been totally normal," Dr. Cooper said. "Maybe that's just because I don't remember the accident, which is great. One of my favorite things to do is be on the bike, and I'm glad that wasn't taken from me."
---
Help spread the word