She Travels the World to Help Remediate Breast Health Gaps
By Rodney Campbell, ABR Communications Manager
2023;16(5):10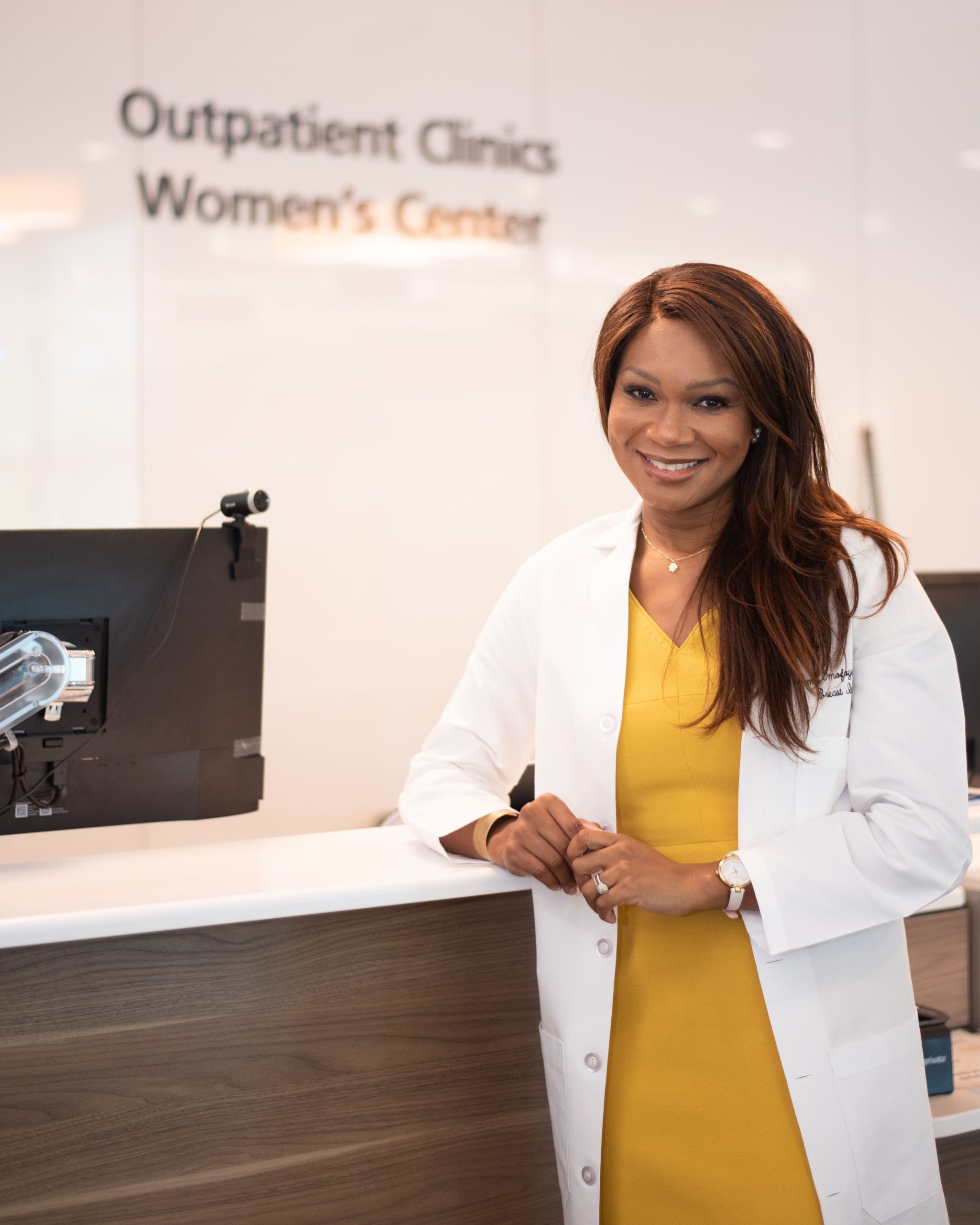 Traveling to under-resourced parts of the world as a clinician and educator has become an important part of Toma Omofoye's life. Dr. Omofoye, an associate professor in the department of breast imaging at The University of Texas MD Anderson Cancer Center in Houston, is on a mission to raise awareness and improve patient outcomes overseas. 
"For my entire life, I've been acutely aware of the importance of healthcare and health education in affecting people's lives," said Dr. Omofoye, who grew up in Nigeria. 
Dr. Omofoye completed medical training and a diagnostic radiology residency at Duke University where she served as chief resident. She joined MD Anderson for a breast imaging fellowship and later became faculty. 
Prep work for her current roles started when she was an undergrad: she earned a degree in chemistry and British literature from the University of West Georgia with summa cum laude honors. Her educational experience went beyond science-related classes, a decision that is paying off. 
"I always assumed that, at some point, my life would involve education," Dr. Omofoye said. "I think some of the most important courses that I took were the communication classes. That's what I do daily in the clinic, communicate with patients or teach in person or online. The ability to communicate clearly has made the biggest difference in my life." 
Dr. Omofoye noted the importance of listening in effective communication. When she learns of gaps in breast cancer care from in-country partners, she intervenes accordingly.
She recently taught in Trinidad and Tobago at the request of the Pan American Health Organization (PAHO), a branch of the World Health Organization (WHO) that is affiliated with MD Anderson. Given that the Caribbean has the second highest breast cancer mortality in the world (after Africa), there's motivation to address early detection with breast imaging.  
"When we look at the data on breast cancer diagnoses and survival around the world, breast cancer survival in the Caribbean is really distressing, as it's among the poorest globally, and most people are unaware of that," Dr. Omofoye said.
Lack of Trained Radiologists a Concern
Among the biggest stumbling blocks has been a lack of radiologists in many of the regions where she has served. Trinidad and Tobago, for example, has approximately 50 radiologists for a population of 1.5 million, and no formally trained breast radiologists.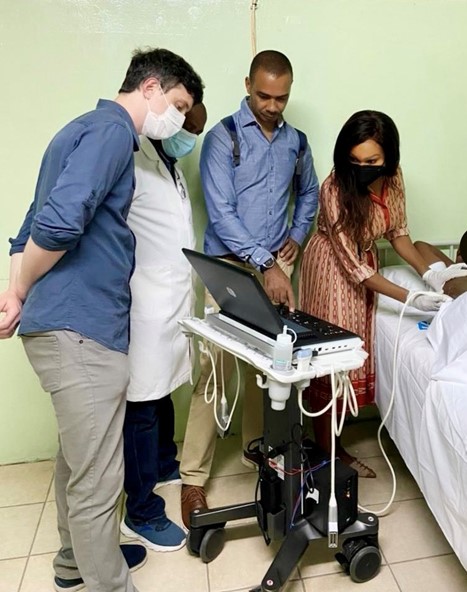 "There is a severe shortage of radiologists in general," Dr. Omofoye said. "In sub-Saharan Africa, we have a ratio of about one radiologist to a million people. For most of the countries in sub-Saharan Africa and the Caribbean, there are zero formally trained subspecialist radiologists. You may find generalists, but it's extremely rare to find breast radiology trained physicians." 
Dr. Omofoye's creation of comprehensive breast radiology training customized for radiologists practicing in low-resource areas is sponsored in part by the Radiological Society of North America (RSNA) through the Helen C. Redman and Marten F. Klop International Education Scholarship Grant. In addition, the MD Anderson Cancer Center Global Oncology program provides ongoing support for her global health initiatives.
Her educational and clinical trips last a week or two, approximately quarterly. What's noticeable on these visits is that technological and educational advancement is discontinuous. Dr. Omofoye has seen hospitals with new 3 Tesla MRI scanners and old 16-slice CT scanners. Similarly, radiologists may have heard of BI-RADS and adopted BI-RADS reporting but may have never seen the BI-RADS Atlas.
"Through this grant, I was able to take a few hospital systems within countries and do a deep dive into their resources, create customized educational materials, and suggest policies around what they have available, so they can take their breast cancer imaging and care to the next level," she said. 
Much of her work in lower- and middle-income countries involves teaching residents and working in conjunction with local hospitals. Many of those facilities have only recently started receiving instruction from dedicated breast imagers. 
"I'm grateful that the field of radiology is recognizing the importance of participating in global health," she said. "Global health initially was focused on addressing communicable diseases. But over time, as the rates of infectious diseases dropped and we're seeing greater life expectancy, we're starting to see more focus on noncommunicable disease and especially cancer." 
Mary S. Newell, MD, the ABR's associate executive director for diagnostic radiology, is a colleague of Dr. Omofoye's who admires her work and dedication. Along with other duties, Dr. Newell is a professor of radiology and imaging sciences at Emory University and current president of the Society of Breast Imaging (SBI). 
"Dr. Omofoye is involved in so many things and on so many levels," Dr. Newell said. "I can attest that she wears many hats within the SBI , and they all fit so well! Her work with the Trinidad and Tobago society is especially important. I know her presence and in-person teaching, not to mention her procuring vital reference materials like the BI-RADS Atlas to share, will have immediate and lasting impact." 
Writing Questions for ABR Exams Helps
Dr. Omofoye has helped improve her specialty at home as an ABR initial certification exam question writer, an experience she said comes in handy when working overseas. 
"I've transferred all the skills used in writing exams for the ABR into educational programs and assessing residents around the world," she said. "I think that the opportunities that (the ABR creates) for faculty development across these radiology professional societies are tools that we can employ across our own personal professional development."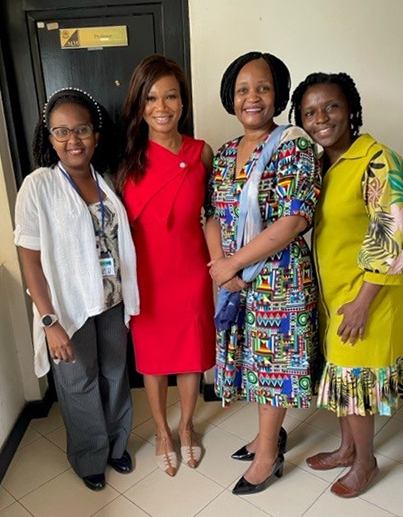 Ultimately, Dr. Omofoye hopes to create more sustainable contributions to global health through virtual telementoring and customized online courses. The hands-on in-person workshops are important but need to be matched by ongoing access to education between her trips. She finds that much can be accomplished during video sessions. 
"While in-person trips are important, they are expensive, limited, and difficult to sustain," she said. "What I'm trying to do is build more virtual and telementoring programs. We can get on multidisciplinary conferences through Zoom with people from all over the world and help mentor them through cases. I have multiple weekly meetings that are part of my global health efforts." 
Dr. Kathleen Schmeler, a gynecologic oncologist and associate vice president for the Global Oncology Program at MD Anderson, has been working with Dr. Omofoye for over two years on initiatives related to the prevention, early detection, and treatment of breast and cervical cancer.
"We are so fortunate to have Dr. Omofoye at MD Anderson," Dr. Schmeler said. "She works tirelessly to share the knowledge we have at MD Anderson with partners around the globe, particularly in low- and middle-income countries (LMICs). She is so dedicated and knowledgeable and has amazing teaching skills. Toma plays a key role in our partnerships with PAHO, WHO, and ministries of health in LMICs to improve breast cancer screening and early detection."
---
Help spread the word