Medical Physics Continuing Certification Advisory Committee Gets Started
By Kalpana M. Kanal, PhD; Robert A. Pooley, PhD; and Matthew B. Podgorsak, PhD, ABR Trustees; and Geoffrey S. Ibbott, PhD, ABR Associate Executive Director for Medical Physics
2023;16(5):6

As part of the ABR's ongoing efforts to improve the relevance and effectiveness of its processes, a Medical Physics Continuing Certification Advisory Committee (CC-AC) was formed earlier this year. The CC-AC is a counterpart to the Initial Certification Advisory Committee that we described in April. The CC-ACs assist the ABR by evaluating its CC (formerly MOC) processes from a participant's vantage point. They offer suggestions for how the ABR can improve the user experience while maintaining a program that is easy for diplomates to navigate and to integrate into their daily workflow.
The MP CC-AC recently had their first virtual meeting. Members represent MS and PhD diplomates from all specializations — Diagnostic Medical Physics (DMP), Nuclear Medicine Physics (NMP), and Therapeutic Medical Physics (TMP) — and come from a mix of academic, private, and industry practices. Members are appointed for a three-year term which may be renewed once. The CC-AC will meet in person during the annual AAPM meeting (when possible) and virtually on a quarterly basis.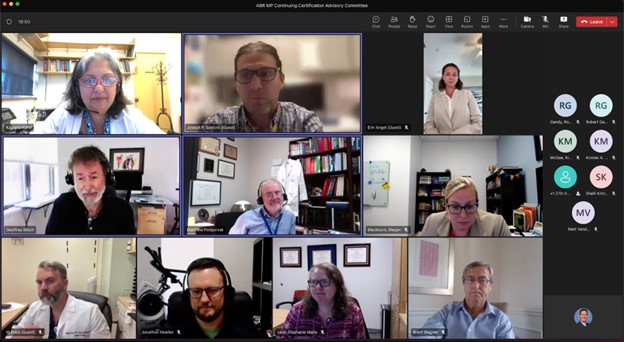 Some of the agenda items discussed during the first meeting include:
Online Longitudinal Assessment (OLA) development and statistics
ABR staff and volunteers continue to standardize development processes, including how comments from OLA participants are evaluated and reviewed by OLA committees. Some meaningful statistics describing the first four years of the MP OLA program include:
99.5% of MP participants (~4,000) have answered at least one OLA question.
~901,000 OLA questions have been answered.
~51% of MP diplomates volunteer to rate OLA questions.
< 6% of OLA questions are declined. (Declines are not available for NMP.)
Average question response times:

1-minute questions: 28 seconds
3-minute questions: 57 seconds
OLA satisfaction scores
The OLA satisfaction scores shown below may help in guiding the committee on directions with the CC process.
66% agree or strongly agree that OLA "positively impacts my daily clinical work."
78% agree or strongly agree that OLA "helps me identify clinical knowledge gaps."
73% agree or strongly agree that OLA "helps me remediate clinical knowledge gaps."
MP diplomates gave OLA an overall rating of 4.1 (with 5 being the best).
Directions of OLA
Some of the discussion on dissatisfaction with OLA centers on current questions not being individualized according to the participant's practice profile and the possibility of that being altered in the future. There was interest and discussion on this topic, and we will do a deep dive into this at our next meeting.
Continuing Certification Exam
For those diplomates who do not meet the OLA passing requirement, and for those who chose not to participate in OLA, a Continuing Certification Exam (CCE), a computer-based 125-question exam, will be offered for each of the medical physics specialties. In 2023, the Medical Physics CCE will be held remotely on December 12. In 2024, the CCE will be held twice: on March 6 and November 21.
At the conclusion of the inaugural meeting, action items for the next meeting were identified. ABR trustees and staff will continue to work with the CC-AC to discuss topics that generated a lot of interest in CC and further investigate how the committee can assist in improving the process and shaping the future of OLA.
---
Help spread the word