Practice Profiles Allow Personalization of OLA Content
By Mary S. Newell, MD, ABR Associate Executive Director for Diagnostic Radiology and James B. Spies, MD, MPH, ABR Associate Executive Director for Interventional Radiology
2023;16(5):5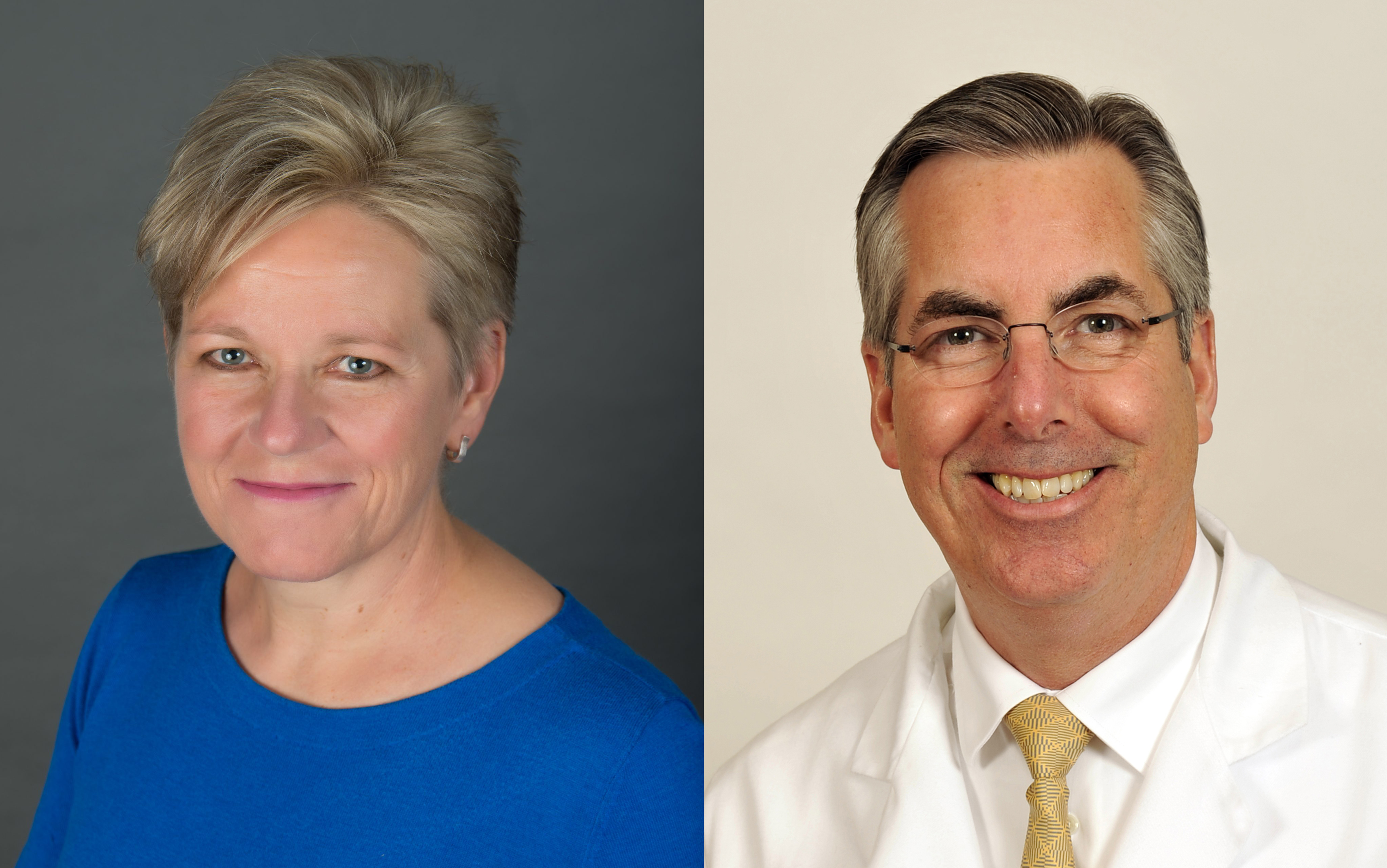 In its 2019 Vision for the Future summary, the American Board of Medical Specialties (ABMS) outlined a road map for continuing board certification and noted that its components should represent a "meaningful, contemporary and relevant professional development activity for diplomates to ensure that they remain up-to-date in their specialty."
The realms of diagnostic radiology (DR) and interventional radiology (IR/DR) are broad, with many diplomates resultingly concentrating their practices on one or a few subspecialties. Alternatively, many diplomates perform and interpret all types of imaging and procedures on a day-to-day basis. As a result, the ABR has been intentional in allowing DR and IR/DR diplomates as much flexibility as is practicable in selecting an OLA practice profile that best reflects their professional efforts.
Upon the launch of OLA, DR diplomates were offered the option to choose up to three different clinical practice areas (CPAs) from which to comprise their overall practice profile. On January 1, 2022, this number was increased to four to further expand latitude in allowing diplomates to most accurately mirror their practices. ABR psychometricians were consulted to make sure that this added degree of choice did not impact the reliability of the assessment process.
"The additional choice serves to enhance both the reliability and validity of the assessment process by increasing the overall relevance of the content," said ABR Director of Exam Services Anthony Gerdeman. "The quality of the assessment will likely improve with a better match to their current practice pattern."
It was immediately clear that diplomates both appreciated and made use of the broadened practice profile options. Currently, there are almost 700 different practice profile permutations being used. Of these, 176 are unique to a single diplomate.
In DR, 64% of participants select two or more CPAs, with 26% selecting four different areas from which to field questions. Alternatively, many diplomates (36%) prefer to take all their content from a single subspecialty area, with neuroradiology leading the way, followed by breast imaging. For those maintaining a single DR subspecialty certificate (pediatrics, neuroradiology, or nuclear radiology), at least three of the four selections must come from their subspecialty area. The last 25% can be selected from the other practice areas, if desired.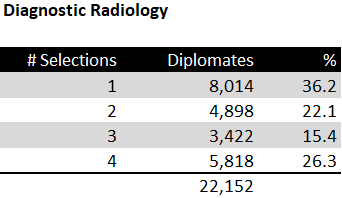 In IR/DR, diplomates also have a choice. Because of the need to test the breadth of IR practice, the options are a little different from DR. The default in the system is for the diplomate to receive 100% IR content. However, they may choose up to two additional practice areas, each for 25% of total content. For example, for an IR/DR diplomate who chooses IR, breast imaging, and ultrasound, they would receive 50% IR content and 25% each of breast imaging and ultrasound content.
When the OLA process was initiated, the only option was for 100% IR content. While that suited many, the most common request of IR/DR diplomates early on was to allow some diagnostic content. Many did part-time diagnostic imaging in addition to IR and believed that content choice would enable them to better tailor their OLA questions to reflect their actual practice. The change was very positively received. As the table below shows, nearly 40% of interventional radiologists have some diagnostic content.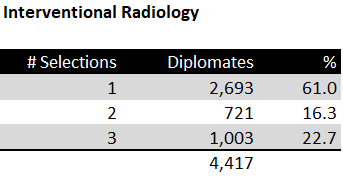 Diplomates can modify their profiles at any time. The modification might reflect a change in their practice situation, a way to identify areas containing relative knowledge gaps, or simply a desire for content variety (testing the waters in an area less practiced). ABR leaders and volunteers continue to monitor and assess all aspects of OLA to ensure optimal flexibility and relevance along the path of continuing certification.
---
Help spread the word