A Thousand Questions Later, They Still Like OLA
By Rodney Campbell, ABR Communications Manager
2023;16(4):10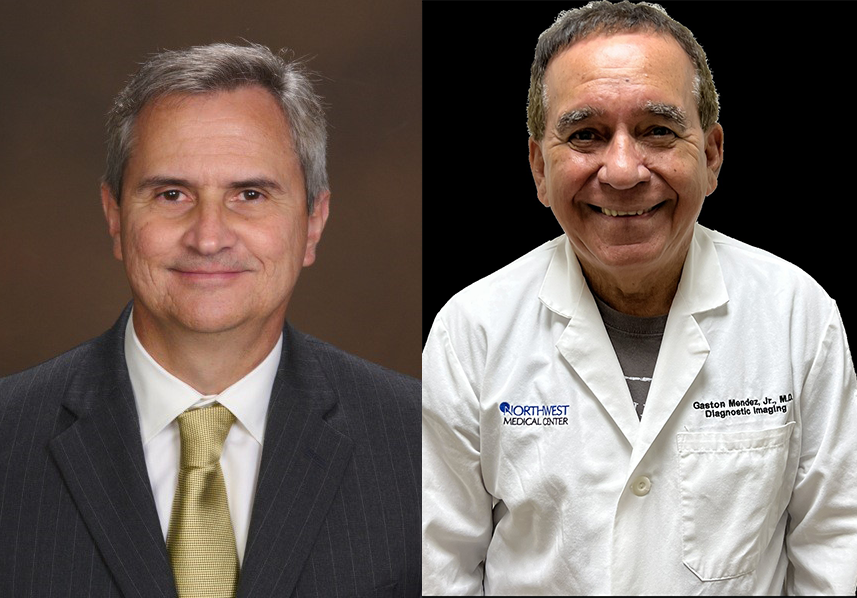 They are part of a club so exclusive that there are only two members.
Ted Cardoso, MD, and Gaston Mendez Jr., MD, have each answered more than 1,000 OLA questions since they began participating in 2019. Both maintain specialty certificates in diagnostic/interventional radiology along with neuroradiology and pediatric radiology subspecialty certificates, giving them the opportunity to answer six questions every Monday morning.
They answer every question they receive even though OLA's flexibility requires them to complete only half (52 questions per year for each certificate).
"At first, I didn't know what to expect, but I've liked OLA," said Dr. Cardoso, who's an interventional radiologist in Wesley Chapel, Florida. "I look forward to receiving the questions. I can knock out six questions in 10 minutes or so."
Dr. Mendez, who's a diagnostic radiologist in Coral Springs, Florida, appreciates the condensed time it takes to learn while answering OLA questions.
"You don't have to read hours of information to come out with two minutes of knowledge," he said. "Here you get two minutes of information, two minutes of knowledge, and it's quick."
Both physicians stressed that getting a question wrong isn't the end of the process. Within a month, a participant who submitted an incorrect answer receives a variant of that same question.
"The purpose is to learn," Dr. Mendez said. "When you see a question again after you make a mistake, you're still learning and you're learning very quick."
Dr. Cardoso has found OLA helpful as he's performing clinical work. When presented with a less common case, he sometimes can go back to what he learned from OLA as he makes a diagnosis.
"Something sneaks in that is unusual or you haven't seen in a while or read about in a while," he said. "OLA covers many of those cases. It's more extensive than what most of us see in our limited anecdotal experience. That's the part that I like."
Neither takes much time to answer questions. Dr. Cardoso said he often addresses his on the weekend; Dr. Mendez said he has never had more than a couple of weeks of questions stack up in his queue.
OLA questions are available for four weeks after issuance. That's never been an issue for these two.
"I'm the type of guy who doesn't like things to accumulate," Dr. Mendez said. "I try to stay up to date on everything."
Before the introduction of OLA as a way of satisfying Part 3 of Continuing Certification (MOC), Dr. Mendez took three in-person exams at the same time every 10 years. He said he felt guilty in the Chicago exam room because he took longer than his colleagues who had to complete just one.
"Believe me, it beats that by far," he said.
Dr. Cardoso also prefers the ongoing nature of OLA to the point-in-time assessment that results from taking an exam.
"Right before I took the test, for three or six months, I would hit the textbooks hard and go into preparing for an exam," he said of the old way of completing Continuing Certification Part 3. "I find it easier to do a little bit at a time."
A recent survey answered by more than 4,700 participants rated OLA 4.2 on a one to five satisfaction scale (with five being the best). When asked if there were ways to improve the platform, Dr. Cardoso's answer was simple.
"I'd love to see more questions," he said.
Sounds as if he's on his way to another thousand.
---
Help spread the word