Certification Requirements
Last verified on September 19, 2017
Interventional Radiology Training Pathways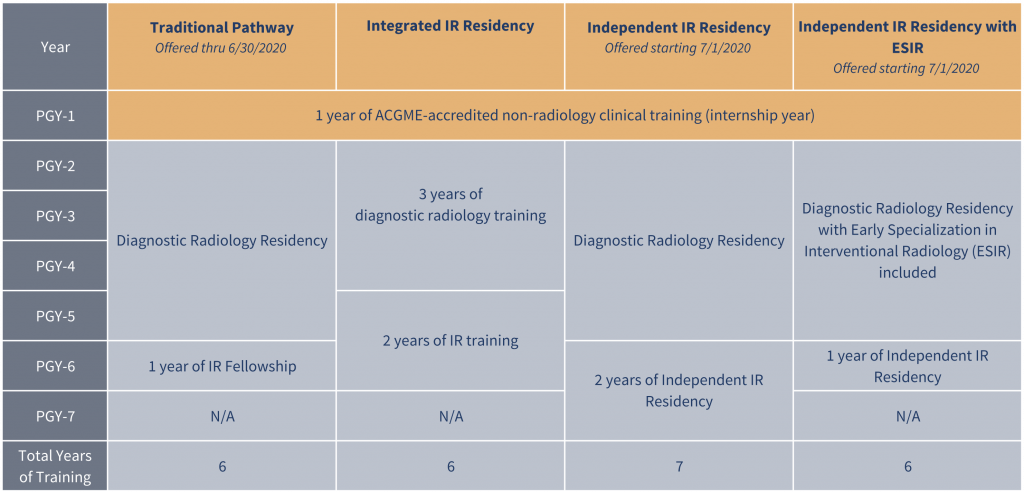 Interventional Radiology Residencies
There are two main IR residency formats:
The Integrated IR Residency
This residency consists of one clinical year, followed by five years of an ACGME-accredited IR residency. The Integrated IR Residency includes:
three years of diagnostic radiology training (same as for a standard DR residency), which should include some months of IR training;
two years of interventional radiology training;
training in critical care medicine; and
training in periprocedural care and inpatient admitting service—admitting patients and caring for them before, during, and after IR procedures.
Those who have begun DR training may have the opportunity to transfer into an Integrated IR residency at their own institution to seek initial certification in IR/DR.
The Independent IR Residency
This residency will be two years and will be entered after the candidate has satisfactorily completed a DR residency. Independent IR residencies will not begin until July 1, 2020. Some candidates who are residents in DR programs approved by the ACGME Residency Review Committee (RRC) to provide Early Specialization in IR (ESIR), and who have completed the prerequisites, will be able to enter the second year of the Independent IR Residency program following their DR residencies.
---